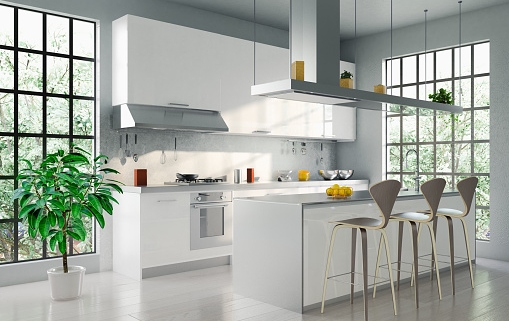 For people who want to create a modern look, white gloss kitchen cabinets are a great choice. Kitchen cabinets with white gloss are more fashionable than ever. This is because they successfully blend cleanliness and modernity. White gloss kitchen cabinets are a popular option for many people. 
They are frequently found in contemporary kitchens and can be an excellent way to give your kitchen a touch of design and beauty. The cabinets' shiny appearance sets them apart from other kinds of cabinetry. The cabinet fronts have been painted with high gloss acrylic paint to create this finish.
Any type of kitchen can benefit from the lovely and sophisticated appearance of the high gloss acrylic paint. Although a glossy white cabinet is a terrific way to modernize your kitchen, there are also some drawbacks. Because white gloss finishes are more likely to show oil and fingerprints than other types of cabinetry, they require additional upkeep.
White High Gloss Kitchen Cabinets
White high-gloss kitchen cabinets are a standard option since they can be tailored to your unique requirements. They can be designed with contemporary elements like curved edges, glass panels, and frameless doors. White high gloss kitchen cabinets seem elegant and tidy and for this, they are preferred for kitchen design.
Their shiny appearance creates the ideal contrast with the other colors in the space. White high-gloss kitchen cabinets are a popular alternative for those on a budget because they are also one of the more economical options. More people choose white kitchen cabinets, especially if they want to go for a trendy appearance. They are popular because are available in various sizes and shapes.
High Gloss Kitchen Cabinets
If you want your kitchen to look sleek and contemporary, high-gloss kitchen cabinets are a great choice. High gloss kitchen cabinets offer a clean, modern style and are simple to maintain. Also can be painted in whatever color you desire. The glossy surface on these cabinets can be achieved using a variety of methods, including painting, staining, or coating with acrylic. Custom kitchen cabinets offer more than just a beautiful appearance. They also serve practical functions. They serve storage areas, prep spaces, and more.
There are numerous approaches one can take when designing a custom kitchen.  You can select from a variety of designs based on your preferences or what you believe will work best for your needs and area. You can also choose gloss kitchen cabinets if you want the best of both worlds a high gloss style and practical storage areas in one unit. High-quality materials that give a high level of durability and design are used to create glossy kitchen cabinets.
In contrast to other types of kitchen cabinet doors, they require little to no cleaning. In comparison to other types of kitchen cabinet doors, they require little to no cleaning, making them easy to maintain. Customers can select from a variety of designs that fit their individual tastes and home decor. Additionally, they can have specially created designs with their preferred colors, textures, and styles.
High Gloss Acrylic Cabinets
High-gloss acrylic cabinets are one of the most preferred styles. These cabinets have a highly contemporary, clean, and sleek appearance that works with any kitchen design. High-gloss acrylic cabinets are an excellent option for kitchens since they exude a sense of luxury while yet being durable and simple to clean.
Additionally, there is something for everyone because they give off a luxurious feel while still providing durability and easy cleaning. Depending on the look you want to create with your design, the many colors that these cabinets come in are ideal for making your kitchen feel warm and comfortable or cold and futuristic.  These cabinets also blend well with matte cabinets that have been painted with high gloss embossing. Sometimes people who like custom cabinetry choose these ones.
White Shiny Kitchen Cabinets
White is the color that symbolizes perfection, strength, and purity. It may add a touch of refinement to your home's decor while giving any area new life. Renovco Ottawa offers a wide selection of white kitchen cabinets. 
You may select the ideal cabinet to match your home's decor by choosing from materials including solid wood and high-end veneers. Shop our collection of white kitchen cabinets below and get started now! If you want something that will last and still appear beautiful, a white gleaming kitchen cabinet will be an excellent addition to your house.
Gloss Kitchen Cabinets
Gloss is a thin layer of a substance that is put to an object's surface to create a smooth, shiny finish. On the surface of things like cabinets, tiles, and furniture, gloss is applied. It offers a bright, smooth surface that is simple to clean and maintain.
One of the most crucial elements in kitchen cabinet design is gloss. It guarantees that your cabinets are not only lovely but also sturdy and cleanable. You might not be able to see what's on the shelves in your kitchen cabinets if they are shiny. It may be challenging to see objects in your kitchen due to this glare.
High Gloss Kitchen
High gloss kitchen cabinets are particular styles of the cabinet that have a shiny finish. They often come in a variety of shapes and colors and are made of wood or metal. High gloss kitchen cabinets enhance the elegance of your house in addition to being stunning to look at. 
High gloss kitchen cabinets come in a variety of styles to match any type of house. It really depends on your goals for them as there is no one style of high gloss kitchen cabinet that is perfect for every home. Renovating your kitchen can become a reality if you select the best team of experts. Call us now on our phone number at (613)7277070 or send an email to infoottawa@renovco.com.
https://www.renovcoottawa.com/wp-content/uploads/2023/02/white-gloss-kitchen-cabinets.jpg
339
509
Renovco Ottawa
https://www.renovco.com/wp-content/uploads/2014/11/renovco-airmiles.png
Renovco Ottawa
2023-02-03 15:03:23
2023-03-09 11:35:38
White Gloss Kitchen Cabinets