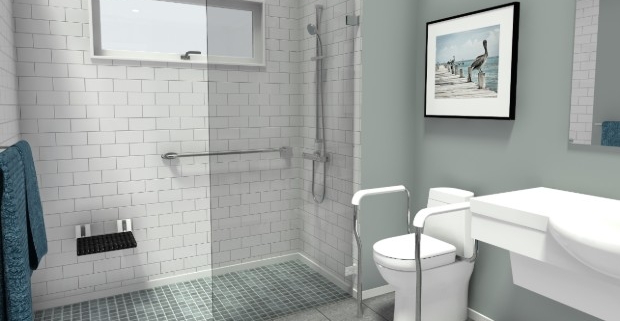 5 Ideas How To Make Your Bathroom More Accessible
Accessible bathroom remodelling is not limited to disabled or elderly adults locked in a wheelchair. Homeowners renovating their bathrooms need to reevaluate design considerations to better suit their needs as they age in their home. Common aspects of a bathroom like wet shower tiles and a low toilet can pose a threat to the elderly. However, installing suitable showers or bathtubs can turn a space into an accessible bathroom.
Choosing on-site ageing models can maximize investor return to homeowners and bypass the inevitable need to install an accessible shower. Before moving on to a bathroom renovation job, consider these five ideas that will make your bathroom more accessible.
The Renovco Ottawa team assesses the specific needs of each client and designs the bathroom with this in mind. An on-site certified ageing specialist (CAPS) assists in reviewing and selecting achievable parts. Our team will ensure that your new bathroom is aesthetically pleasing and functional, no matter who uses it.
Remodelling a bathroom with universal access as the advantage presents both design challenges and opportunities. Involve an on-site certified ageing specialist to obtain a careful inventory early in the planning process for all the skills, preferences and tastes of the target users. While the universal design better accommodates users in wheelchairs, it can make a more comfortable bathroom for all users without sacrificing style.
1. Generous Dimensions and Smart Fixture Placement
The first consideration when building a wheelchair bathroom is the dimensions of the bathroom door. An accessible room for wheelchairs should have a door with a minimum width of 32 inches. It requires a 5-meter turning radius for a wheelchair. It is also important to consider the placement of appliances (toilet, shower, bathtub, sink) inside the bathroom to make it maneuverable for an individual in a wheelchair. The toilet should be placed between two support rods 36 inches apart to make it easier to lower and raise. Toilet seats 17 inches off the floor are the ideal height for someone in a wheelchair.
2. Curbless Shower Stalls and Suitable Shower Benches
When designing an accessible shower, it is important to make sure that design defects are not barriers that restrict use or require help from a person with a disability. Those shower stalls should be at least 3 feet deep and 5 feet wide. The shower should have no braking or, if unavoidable, a rubber edging that a wheelchair can rotate. Moreover, a bench in the shower is a simple way to make your bathroom more accessible. A bench provides a secure surface for personal adjustment and can allow individuals to relax if they feel disoriented or lightheaded during a shower.
3. Hand-held Shower Head and Stability Grab Bar
A shower head held with a sliding bar increases the possibility of entry and allows to maintain autonomy during the shower. The inclusion of a thermostat-controlled and pressure-balanced valve prevents individuals from accidentally burning themselves. A grab bar to aid stability when entering and exiting the shower is an easy installation that makes a bath more accessible. If you want to avoid a sterile, institutional look, you can choose a coloured grab bar that matches the other accents in the bathroom.
4. Add Clearance Beneath the Sink
An accessible sink for wheelchairs requires at least 27 inches of clearance under the sink in order for the individual to be rolled up. If there is no clearance under the sink, then the individual feet will crash into the appliance and he or she will not be able to access the faucet. The top of the sink needs to be 32 to 34 inches off the floor. It is also important to remember to hang the bathroom mirror as low as an individual in a wheelchair to see for themselves. A bathroom remodel is the perfect option to place faucets on the side of the sink to make them easier to reach for a seated individual.
5. Slip-resistant Tile Floor
Choosing a floor with a structure in the bathroom can help prevent dangerous trips, slips and falls – especially when the floor is wet. Grip-friendly mosaic tiles are not only aesthetically pleasing but provide numerous design options that are compatible with any style. If you choose smaller tiles or larger tiles with lots of grout in the middle, a small structure can provide enough friction to prevent a dangerous slip.
Growing Old in Your Home Doesn't Have to Be Hard
People need to make conscious decisions about retirement years, especially when deciding whether to stay in their own homes or transfer to a retirement home. More and more people are choosing to grow old in the comfort of their own home rather than deal with the hassle of moving. It's more cost-effective for a client to rebuild their ageing home than to move to an accessible facility.
Remodelling of the Accessible Bathroom
The designers of Renovco Ottawa want to address any potential concerns that may arise for an accessible bathroom. We will analyze your space and budget and present a variety of options for your bathroom renovating project, such as:
Wide doorways, clearance of pathways, shower openings to accommodate wheelchairs and walkers

In-law suite bathrooms that keep your elder guests safer when they're staying with you

Safe changes in floor level

Reach and height standards in accessible-living bathrooms

Grab bars and built-in or fold-down seating

Wall-hung lavatories

Barrier-free showers with no sill or obstruction

Faucets that are easy on/ easy off

Walk-in tubs

Slip-resistant flooring

Easy maintenance surfaces

Low open shelving vs high, deep cabinets
If you need an accessible bathroom or anticipate needing it in the future, contact us today. Call 613-727-7070 and a specialist will ensure that your new bathroom will contain all the special features that make it more accessible.
https://www.renovcoottawa.com/wp-content/uploads/2021/04/pic-1.jpg
350
620
Renovco Ottawa
https://www.renovco.com/wp-content/uploads/2014/11/renovco-airmiles.png
Renovco Ottawa
2021-04-13 11:23:53
2021-09-02 14:39:47
5 Ideas How To Make Your Bathroom More Accessible