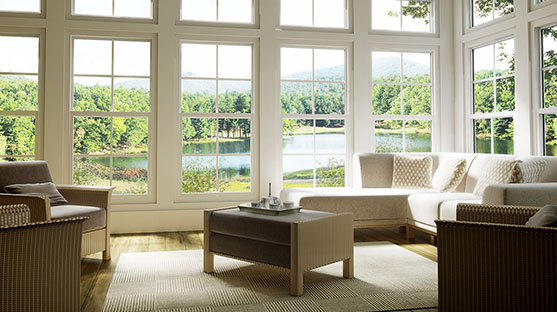 Windows and Doors Costs in Ottawa
Our homes' windows and doors allow us to securely observe and interact with the outside world. To protect the security and privacy of the residents within, strong and resilient windows and doors are required. Furthermore, well-kept windows and doors ensure that our HVAC systems do not have to work any harder than necessary to make our houses warm. The most popular choices among Ottawa residents are wooden doors and sliding windows. If properly maintained, they can also raise the value of your home.
We recommend that you plan more than one window or door replacement or installation job at a time when planning a window and/or door replacement or installation project. A single window or door installation might be quite costly, but your contractor may offer you a discount if you have multiple installations. Any type of window and door project can be costly, so use this cost guide to figure out how much it will cost to install, repair, or replace your windows and doors in Ottawa.
Windows and Doors in Ottawa
| | | | |
| --- | --- | --- | --- |
| Task | Average Cost* | Lowest Reported* | Highest Reported* |
| Door Installation | $3,923 | $100 | $14,000 |
| Door Repair | $261 | $100 | $700 |
| Door Replacement | $6,714 | $600 | $30,000 |
| Entry Door Installation | $2,875 | $250 | $5,500 |
| Exterior Door Installation | $4,000 | $4,000 | $4,000 |
| Window Installation | $6,156 | $400 | $19,000 |
| Window Repair | $1,233 | $750 | $2,400 |
| Window Replacement | $7,419 | $150 | $47,000 |
Door Installation
The cost of any sort of door installation is calculated by considering the labor, material, and hardware costs. A local pro can assist you with design and styling whether you're installing new bathroom or bedroom doors.

You'll need a variety of tools and supplies to install a new door, including the door itself, hinges, screws, knobs, screwdriver, drilling machine, router, hammer, measuring tape, and so on. To avoid cracks, gaps, noise, or lose doors, correct measurements and secure fitting are essential in every door installation.

A door installation in Ottawa might cost up to $14,000 depending on the number of doors you want to install, your timetable, and the materials you choose.
Door Repair
Your door may need to be fixed for a variety of reasons. Due to high temperatures and humidity, a door to your bathroom or garage can expand, become unsteady due to loose hinges, and be incredibly difficult to close or open. We recommend having your door checked by a professional for repair if you are unable to utilize it as efficiently and smoothly as it was designed to be.

The problem can be resolved by changing locks, replacing hinges, or sanding the door in the appropriate areas. A damaged door repair in Ottawa might cost anything from $100 to $700 depending on the degree of damage.
Door Replacement
Door replacement is usually done as part of a larger home improvement project in Ottawa. If your door is beyond repair, though, you can get a replacement. Your contractor will need to remove the door frame and make structural improvements in its place when replacing a door.

Make sure you choose a contractor to replace your old wooden door with a sliding door that requires more structural improvements. Doing such a large project on your own might be risky and lead to additional costly repairs.

In Ottawa, the average cost of a door replacement project is $6,714.
Entry/Exterior Door Installation
A house's entry door in Ottawa is often built of wood, fiberglass, or steel. Given the design, style, and material elements, as well as warranty options, customization, and accent fixtures, this project may easily get costly. The curb appeal of your home is increased by the facade.

If you want to replace the external door, the contractor will have to replace it along with the frame, just like any other door installation. Exterior doors are hefty, sturdy, and soundproof, therefore they require a long time to install. Installation of an entry or exterior door in Ottawa might cost up to $5,500.
Window Installation
Windows help to increase the amount of light and air in your home. They, like the doors, contribute to the energy efficiency, security, and privacy of the home. If you don't have any carpentry experience, it's not a good idea to undertake the window installation yourself. The absence of gaps between the frame and the wall is a crucial problem in any window installation. Over time, the gaps can lead to cracks, which can trap dust,

mold damage

, moisture, and weaken your drywall.

You have the option of installing single-hung, double-hung, sliding, or casement windows. The final cost of the project is determined by the number of windows you wish to install, as well as the style, kind, and design of the windows.
Window Repair
If your window is damaged, cracked, loose, or sticky, we recommend having it repaired by a professional. Fixing a window using duct tape or glue, especially during the cold, might be dangerous. It can disrupt your home's core temperature, pose a security risk, and promote the spread of mold and mildew. A local specialist will inspect the broken window and repair it in a timely manner.

In Ottawa, a broken window repair might cost anywhere from $750 to $2,400.
Window Replacement
Some of the reasons for a window replacement project include difficulty opening and closing windows, costly repairs, home renovation, improving the beauty of your home, noise reduction, and increased energy efficiency. You can contact a local contractor to assist you with selecting new window designs, removing existing windows, and installing new windows. They'll also clean up any spills and put the finishing touches on the window frame.

In Ottawa, a window replacement project might cost up to $47,000.
Important Things to Remember about Windows and Doors
Plan your door and window projects during the day so you can evaluate the sun's location. You can highlight the sections of your home that receive the most or least sunlight and design your new window or door installation project accordingly. This will help you increase the amount of light in your home while also lowering your electricity bills.

If you're changing the outside doors and windows of your home in Ottawa, you don't require a building permit. However, you must apply for construction clearance at the local zoning office based on the width of the door or window. You can reach out to your local Development Information Officer or a local professional who can assist you with the process.

It may be tough for your contractor to complete the project if the spot where you wish to install the new window or replace the old door is narrow or difficult to access. Difficult access to the installation or repair site can raise the project's overall cost.

Many homeowners' insurance policies cover the expense of replacing doors and windows. Consult your insurance provider to see if your project qualifies for coverage under your policy. You can use your contractor's receipts to submit a reimbursement claim.
Local door and window specialists in Ottawa can assist you with any assignment, whether it's a scheduled project or an emergency repair. Projects involving doors and windows might take a long time to plan. The installation process is simplified if you choose a specific design, style, and type for your doors and windows. You can employ a local expert to guide you through the process. Before handing a local contractor the job to fix your doors and windows, contact Renovco Ottawa at 613-727-7070 for a quote.
https://www.renovcoottawa.com/wp-content/uploads/2021/12/North-Star-1-1-1.jpg
312
557
Renovco Ottawa
https://www.renovco.com/wp-content/uploads/2014/11/renovco-airmiles.png
Renovco Ottawa
2022-02-27 09:00:25
2022-02-22 16:17:42
Windows and Doors Costs in Ottawa