30 Inspiring Before and After Kitchen Renovations
If you need some inspiration with before and after photos of kitchen renovations example, you are in the right place. Renovco Ottawa is the contractor that is going to turn your dream kitchen into reality. If you have a clear idea, all you have to do is to contact our experts to discuss all the other details. If you still don't know how to remodel your kitchen here are some examples. For more information, you can contact us anytime you want.
 1# The first kitchen from our renovations example
In the first example, we thought to show you a minimal idea that with a small cost can be turned by a professional into something very fancy and special. Nowadays it's very common to put center cabinets that work as a dining table as well. Mostly people prefer minimalist colours like black, white or as in our case gray because they look more modern in comparison to other colours like brown etc.

 2# The Second kitchen from our renovations example
In the next project, we keep the same design as in the first one. Changing the paint colour to gray will have a great impact on the look your kitchen will have from now on.  Making some of the cabinets open in order to display every glass or plate that you like and other decorations will help to personalize your kitchen even more.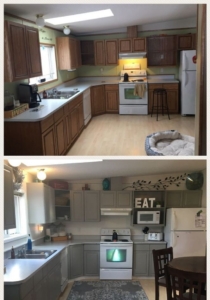 3# The third kitchen from our renovations example
In this project, I think that photos say more about words. From the outdated 70's design to a modern one with plenty of light and very pleasant. On this, before and after photo it is very clear what to expect from our experts that even your small corner kitchen can be made a beautiful environment where you can spend hours cooking for yourself or your family.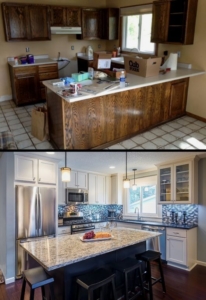 4# The fourth kitchen from our renovations example
In this article, we have continued the gray-blue vibe because of the many requests of our clients. Our policy is always to care for and respect our customers ' needs and desires. We can come to our showroom to discuss with an expert all the colour palettes that can look good with the other parts of your house. In these photos, we can see what a big difference can do just professional paint and some small arrangements.

5# The fifth kitchen from our renovations example
If you have a big window with a beautiful view outside, why not emphasize that, let the natural light in and open up space around the window. Also, the baby blue colour mixed with white helps a lot to give our kitchen look a lot bigger and modern. With your new kitchen, you will love the whole making diner process even more.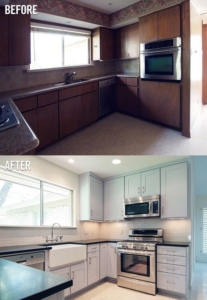 6# The sixth kitchen from our renovations example
In this photo, you can clearly see the big difference in colours and lighting comparing the before photo and the after renovation one. The dining room and kitchen are now one. You now have a bigger space and a lot of natural lighting and artificial too.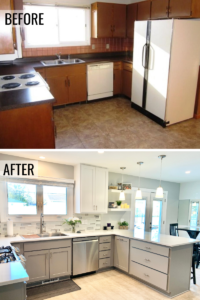 7# The seventh kitchen from our renovations example
I can not recommend enough that if it is possible to have big windows you should do it. Having big windows provide a connection between your kitchen with the outdoors.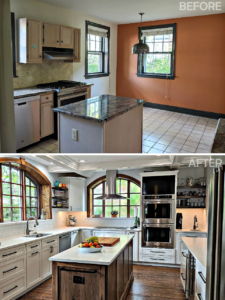 8# The eighth kitchen from our renovations example
The wallpapers on the kitchen belong now to the past times. Nowadays the modern look consists of the main colour and another colour that can pop up.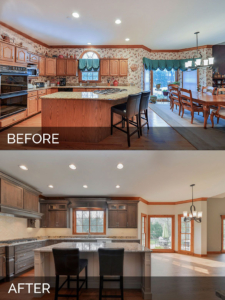 9# The ninth kitchen from our renovations example
From a kitchen that looks like has come straight from an old RV, this kitchen is transformed into a kitchen that looks exactly as those fancy kitchen that is shown on TV. Having a kitchen like that is now as expensive and as far away as you think.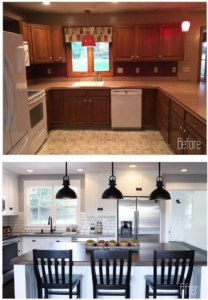 10# The tenth kitchen from our renovations example
This kitchen has all the elements of the previous kitchens we have shown to you. It has a lot of space, bright colours, a pop colour and some little decorations like flowers etc.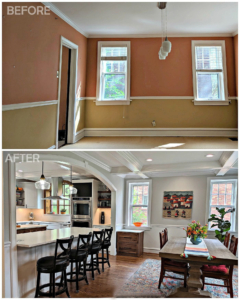 You can visit our blog for more ideas …
Why Us?
Fortunately, all of these potential issues can be solved by hiring a renovation professional that has a proven and tested process. For your various renovation needs, Renovco Ottawa is the best solution. We can help you to replace your windows and doors. We work with quality, also we are fast and very economical. Call us at 613-727-7070 or book an appointment at info@renovco.com.
Our teams of experts are always ready to assist you. Whether you would like to design your dream bedroom, remodel a bathroom, finish the basement, create a new home extension, renovate your office or get your home restored after a flood or fire, or maybe just for a new look, you can count on Renovco!
https://www.renovcoottawa.com/wp-content/uploads/2020/11/kitchen_renovation_example.jpg
750
1000
Renovco Ottawa
https://www.renovco.com/wp-content/uploads/2014/11/renovco-airmiles.png
Renovco Ottawa
2020-11-19 20:46:11
2021-09-02 14:42:44
30 Inspiring Before and After Kitchen Renovations