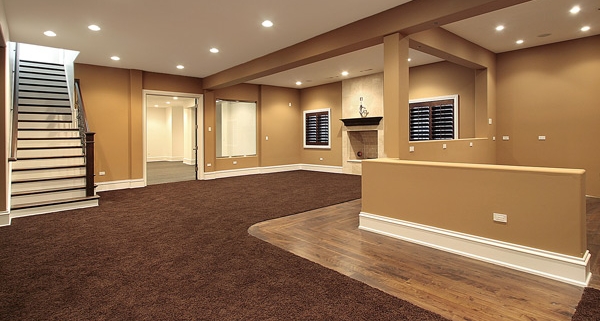 7 Renovation Trends in 2021
Last year we saw a great shift in the day-to-day operations of the world. Offices shut down, daily commutes ended, and we tried to do it all—from schooling to working out to therapy to vacations—in our homes. According to research, 36.2 million Americans (22% of the workforce) will be working casually by 2025, which is an 87% increase from the number of remote workers prior to the pandemic. It's no doubt that how we're thinking about renovation projects has likely changed from previous years. So we reached out to those in the world of home improvement, decorating, and landscape design for the scoop on what they think the big trends will be for 2021 reno projects. 
Giving rooms a new life
"Entertainment and recreational room design help requests have, as of recently, started to replace family room makeovers, which were the top trend for the past 8-9 months," says Devin Shaffer, head interior designer at Decorilla Online Interior Design. The pandemic continues to learn us new trends to use in maximum the space that we consume time in. Because of this, many homeowners have maximized the design opportunities for the most commonly used rooms in their homes and are now seeking expert advice on what rooms or spaces in their home can take on a new life. Basement renovation projects are a great way to build a recreational room, and they have been in high demand over the last quarter of the year. We predict this to trend more and more over the next year.
The most entertaining requests Devin is seeing: in-home theatres, full home bars, indoor bowling lanes, indoor golf simulators, and climbing walls. "It's been really interesting to see designers and clients get artistic with guest bedrooms–to–at-home arcade rooms, out-of-the-box alternatives to basements with garage–to–home–gym conversions and the latest is a home library–to–Lego-collection showroom."
Making room for multigenerational households
A trend I have seen appearing in important markets that have even been selected by large area builders is the development of purpose-built multigenerational homes with basically two individual homes under one roof. This is not just down to changing dynamics between families but also because of the capability for homeowners to monetize the extra area er even Airbnb-style for rentals.
We've already had our eyes opened to the power of ADUs and backyard casitas but be ready for an ever-growing landscape of standard solutions that, Christian adds, "will come ready to assemble, allowing for renovators to offer a complete turnkey solution for customers where they can literally pick a tiny home from a catalogue and have it constructed on-site in record time. This also eliminates the need for large-scale ongoing construction disrupting an often already chaotic home environment where space and privacy are already in short supply."
Incorporating green solutions
Either it's the addition of larger systems like solar power or rainwater gathering to existing homes or simpler incentives for property owners to begin insulation and HVAC upgrades, this new initiative will bring the advantage of work for both the commercial and residential renovation industries," says Christian. At Repair Pricer we have already seen an improved prevalence of these types of additions and upgrades, and with potential new tax incentives for green renovation, we would expect that trend to continue well into 2021 and beyond.
Extending the indoors into the outdoors
Building a comfy outdoor living space that is an extension of your indoors will continue to be popular with 2021 home renovations, and not just in the warmer climates. Designing so that there is a natural flow between the indoors and outdoors with appearances like large sliding or folding glass doors permit for the option to let the outside in and vice versa. Drop-down screens on the porch to help with mosquitos, outdoor heating lamps, outdoor fireplaces that create warmth, and cozy couches will extend your relaxation into the cooler months.
Creating bathroom oases
How often have you escaped to your bathroom this year with the sole goal of quiet alone time? The experts at Houzz have the same idea, saying that with the right appearance, a bathroom renovation can help decrease stress. According to a 2020 Houzz Bathroom Trends Research, two in five homeowners (41%) who renovated a master bathroom say they rely on their new space for rest and relaxation. It's time to begin saving up for renovations as big as soaking tubs and steam showers, to smaller upgrades like aromatherapy showerheads and bathtub fillers that can hold a cup of tea or glass of wine. 
Getting bigger with tiles
Since we're consuming all our time at home, making visual upgrades is a big part of the home renovations trends. Big-format tile can help visually extend a small space, according to the professionals on Houzz, so their use is in progress. Another benefit of the trend: Fewer grout lines means less cleaning and less visual clutter. "We're seeing big tiles used in a mixture of classic patterns, such as stacked, herringbone and brick," says Houzz senior editor Mitchell Parker. He suggests if you're considering large rectangle tiles for an area like the bathroom floor, go with a matte finish, which provides some slip resistance. 
https://www.renovcoottawa.com/wp-content/uploads/2019/10/basement-remodeling-1.jpg
375
600
Renovco Ottawa
https://www.renovco.com/wp-content/uploads/2014/11/renovco-airmiles.png
Renovco Ottawa
2021-01-28 12:51:04
2021-09-03 12:47:08
7 Renovation Trends in 2021