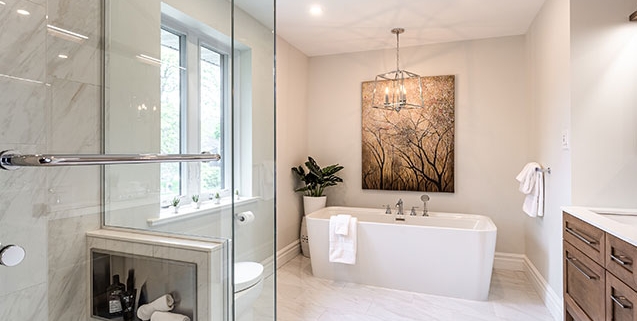 How do bathroom renovation work?
Every renovation starts with deciding either your design or your budget. One of the two will set the tone for kickstarting the design process for your modernization. 
Renovation Case: Prioritizing Design – I
If you are prioritizing design, and you have an initial concept in mind, you may choose to engage an interior designer. An interior designer will help fill in the blanks, finalize the details, create your renovation plans, and 3D mockups until you are 100% satisfied with the design. Once this has been completed, your renovation contractor will be able to generate a budget based on the interior design plans for your renovation. In this case, you will get your dream bathroom and the project budget will be determined once you know you're getting exactly what you want. 
Priority design – II
If your main priority is design, but you do not yet know what you want, it is best to meet for an initial consultation with your renovation contractor. Your renovation contractor will be able to provide some design inspiration and project portfolio images to help give you some initial ideas. Your contractor can also guide you through different styles to help you come up with ideas. There are a variety of style choices when it comes to the bathroom. You can go with a traditional, modern, contemporary style, farmhouse, rustic or transient. This will depend on your personal taste and other spaces in your home.
Once a style and concept are defined, your contractor will work to provide you with a list of choices for each element in your bathroom. Once you have selected your desired specifications for your vanity, countertops, mirrors, bathtub/shower, sink, faucet, toilet, tiles, etc., your contractor will be able to provide you with a budget for your project.
Renovation Case: Priority budgeting
If your project budget is your top priority, it is best to discuss this with your contractor in advance. A major bathroom renovation for a 5 'x 10' bathroom in Ottawa costs about $ 10,000. This includes complete removal and replacement of the entire bathroom. Costs increase if the bathroom is larger, the orientation needs to be changed or if higher specifications are chosen. Knowing your target budget and desired bathroom style, your renovation company will provide you with a selection of items that can be used for your renovation while staying within your desired budget. Renewing on a budget does not mean that the final product will not look very good. A good contractor has the resources and contacts to be able to provide an excellent toilet to meet any reasonable budget
No matter which of the above may be your issue, at Renovco, we believe in doing what it takes to deliver great projects efficiently, cost-effectively, and cost-effectively. Whether a complex design or a tight budget is your top priority we guarantee your new bathroom will exceed your expectations. If you are thinking of renovating your bathroom or looking for a renovation company in Ottawa to help you with your next renovation, do not hesitate to contact us for a free consultation. You can also book an online consultation on our contact page.
https://www.renovcoottawa.com/wp-content/uploads/2021/05/04-lp-bathroom.jpg
476
637
Renovco Ottawa
https://www.renovco.com/wp-content/uploads/2014/11/renovco-airmiles.png
Renovco Ottawa
2021-07-13 14:28:34
2021-09-03 11:22:21
How do bathroom renovation work?